Having a clean, chic-looking home is a dream for many people, irrespective of the overall aesthetic they align with. One of the essential zones to focus on in that regard is the bathrooms. With modern amenities and stylish interior décor, it is possible to prepare a stunning bathroom for a satisfactory experience during your private moments.
One vital aspect to focus on here is the shower niche, with solid structure and formation during bathroom remodeling. Many providers like HYDRO-BLOK offer high-quality custom shower niche settings for modern bathroom interiors.
But before you consider ideas for the design, you must know what shower niches are. This comprehensive article presents all details pertaining to this element to help you make the best possible choice. Interested? Read on!
What Exactly Is a Shower Niche?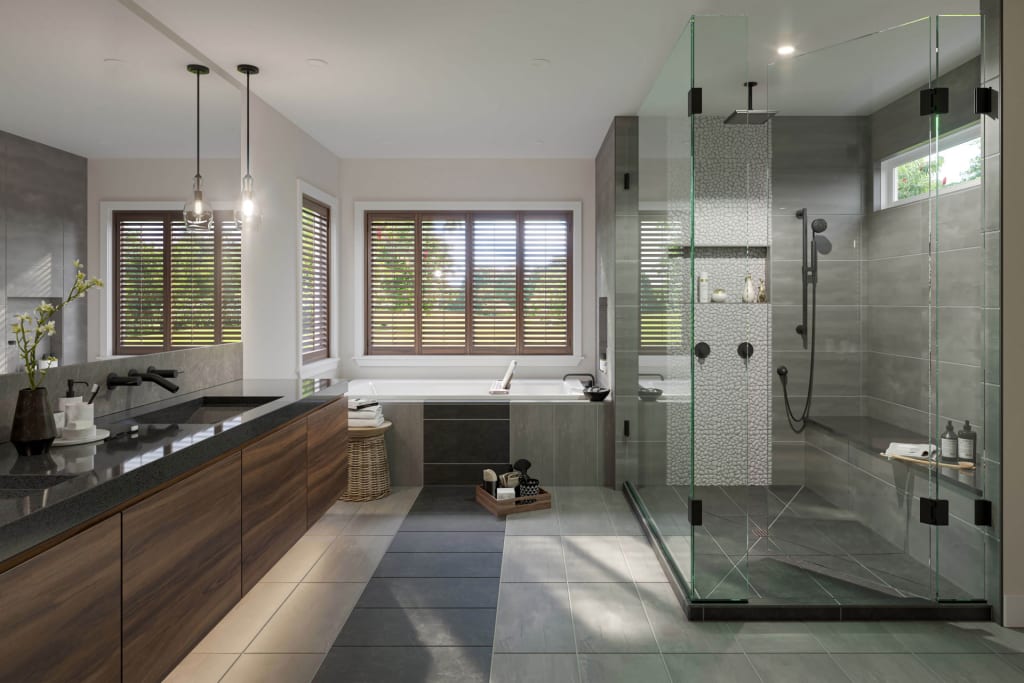 In bathrooms, storage spaces are necessary to keep all of the essential things like toiletries, shampoos, and other elements. While there are cubbyholes that you keep in the bathroom design, shower niches are specialized storage areas within the wall of the shower area of the tub.
This type of storage structure is built into the wall and is somewhat open. While niches are generally specific to showering areas, you can install high-quality niches in the bathtub region as well. People usually utilize these spaces for organizing their bathing objects.
Typically, homeowners invest in shower caddies or shelves in their tub or shower area for extra space. However, they are bulky, difficult to clean, and can affect the overall look and feel of the décor. In this context, shower niche ideas are better cost-effective options, look aesthetically pleasing, and incorporate into the bathroom design.
Types of Shower Niche
Specific types are common when it comes to the overall style of shower-based niches. While installing top-quality products like HYDRO-BLOK's recessed shower niches, you should consider which type would work well into your bathroom look. Two main subheadings here are Finished and Tiled.
Common Mistakes to Avoid During Shower Niche Installation
Indeed, shower niche ideas for bathroom remodeling have many benefits; however, installation is not always easy. Consequently, some mistakes are common for people to make during this process. Here, we detail the most common errors and how to rectify them.
No Waterproofing Membrane.
To avoid this issue, you should choose shower niche types that come with integrated flanges. Afterward, one can add waterproofing to the flanges, and the membrane would stay intact.
The Wall Structure Is Not Stable.
Building a shower niche into the shower environment, especially when you are preparing a horizontal custom-built tiled niche, can compromise the structural stability of the wall. While the horizontal type of tiled shower assures more extensive storage, it is vital to frame it well with experience contractors first.
Installing The Shower Niche Within The Exterior Wall.
Putting the shower niche on the outer side of the shower makes it prone to moisture collection behind the formation. That can cause damage to the exposed section and make it damp and rusty. So, fixing the shower niche inside the stud cavity well is essential.
Completely Disregarding Waterproofing.
Especially during custom-building shower niche ideas, a lot of the contractors can avoid the waterproofing phase altogether. Sometimes, water can infiltrate into the hidden cracks or spaces even with a tight joint structure. You should avoid making this mistake and prepare a shower niche section in your bathroom that is solid, strong, and waterproof. Adding a liquid or sheet waterproofing membrane can lock the hidden units so water cannot enter these areas.
Not Getting A Custom-Fit Option.
Many users opt for a finished or pre-manufactured shower niche for their bathroom. However, that can make installing the best-sized shower-centric niche for the area difficult. So, avoid retrofit options as much as possible unless the wall tile is grouted well beforehand.
Best 20 Shower Niche Ideas For Bathroom Décor
The following are some of the best shower niche ideas you can try out for your interior décor in the bathrooms.
Vertical Niches
These types are higher, not longer. The width of this shower niche type is not as big as the length. It is suitable for you if your bathroom has a small shower stall- it allows more leg room. This type of niche looks pretty well because of its sophisticated look. The taller niche also will make the design of your bathroom more integrated and thoughtful. The double vertical niches mainly add symmetry and balance if you have a large shower.
Horizontal Shower Niches
These types are longer in size and not vertically. You should build a horizontal shower niche to incorporate the wall space nicely if you own a larger shower space in your bathroom. Also, it gives a polished look to your bathroom
Retrofit Shower Niche
Installation experts fit this type of shower niche inside the finished tile section of the wall and attach it in place with adhesive. Common materials for this are plastic, porcelain, or stainless steel. While it is easy to fit, it does not work well with a waterproofing membrane.
Blended Shower Niches
Another common type of shower niche idea is the blended version that creates a seamless look to the build. For this, you should add the same tile available on the shower walls and give the shower niche an appearance of blending into or protruding out of the background.
Membrane-Bonding Shower Niche
These come with an outer flange for frame attaching and bonding membrane that waterproofs the area. Usually, they are made of porcelain or stainless steel and are simple to install.
Contrasting Niche
Unlike the blended type, here, make sure to create a niche that contrasts against the shower in terms of the color and its material. For example, add a dark grey shower niche if your bathroom is colored off-white.
Preformed Niches
Also called Prefab niche, this type of shower niche is easy to put together and waterproof. The surface is made in a way that is suitable for tile bonding. The only drawback is the lack of size variety. Common materials for the preformed type of shower niches are foam board, plastic, and stainless steel.
Custom Tiled Shower Niches
You have to create a framed box area inside the wall stud's section. After that, one must cover it using a tile backer board, complete the waterproofing process, and then add the tiles. So, this takes a long time to install and can cost higher. Size variation is available since one has to custom build it, but errors are possible if an inexperienced expert handles the tasks.
Framed Shower Niches
These recessed shower niche ideas involved framing around the shower niche compartment, which makes it look protruded from the shower walls. Keep the shower niche in the same tiled pattern as the shower walls, but add a different color or pattern to the outline. It is one of the best niche ideas for your bathroom as you can decorate it nicely and put your shampoo bottle for displaying which will look good.
Multiple Niches
You can add multiple shower niches in a shared bathroom in a box pattern. Each shower niche section can hold the personal items of all the members. You can also do some DIY for having a much better look. You can position the multiple shower niches vertically so that it will solve the problem of having shelves for different heights of people in your family.
Multiple Heights Of Niches
You can create a stylish shower niche look by alternating vertical and horizontal niches in a diagonal sequence. Taller bottles can stay in the standing area, while you can keep soaps and small bottles in the flat section.
Illuminated Shower Niches
You can add lighting with LED waterproof strips along the back or outline of the shower niche for a glowing light effect. An indirect or recessed lighting look would improve its aesthetical appearance. It will cover the whole bathroom with illuminating lights which will instantly give your bathroom a glowy effect.
Shelf-Full Shower Niches
You can add one vertical shower niche and then separate them into shelves for a more compact look, creating individual compartments. In this type of design, you are going to have space for all of your showering items, so it will definitely give you a clean and classy look. You also can install glass- shelves for your bathroom.
Window Shower Niche
Another exciting plan for shower niche ideas is to prepare it by converting windows. Here, cover one window and put a colored or etched glass on top. Add ambient lighting against the tiled section for a glowy effect.
Stacked Tile Shower Niches
For a stylish take on shower niche ideas to add to bathroom décor, you can place them against stacked tiles for a modern look. It works well with glass-colored shower niches.
Glass Shower Niche
You can go for a glass box that will be positioned at the corner of your bathroom so that you can have a stand-up shower. It is a very beautiful and modern idea for your bathroom. It will create a separation from the rest of the bathroom and give it a clean look.
Skylight Shower Niche
It is one of the conventionally used and easy-to-maintain shower niche ideas. A skylight design is a plus thing when it comes to the bathroom decoration. You can add one above your shower to make sure it will give you a refreshing morning. However, additionally, the natural will always help you to show the gorgeous tile work of your bathroom.
Concrete Finished Shower Niches
For this, the material used is concrete finishes in a darker color. It complements well with a well-lit but rustic bathroom décor.
Natural Stone Niches
You can prepare the shower niche in natural stone-make brick tiles for a homely modern look. It works well with horizontal niche structures. This will give your bathroom a rusty look and you can also use the natural stone style on your bathroom floor as well. You can add some flowers to decorate it more beautifully.
Mosaic Tiled Shower Niches
The mosaic pattern in shower niches is easily one of the best options for shower niche ideas. You can match your mosaic to your larger bathroom tiles which will give your bathroom a simple, subtle, and modern sophisticated look. Suitable in warmer or cooler hues, it adds a hand-crafted appearance to the bathroom décor, especially with mosaic layered floorboards standard in these rooms.
Why Should You Focus on Practicality for Shower Niche Installation?
Indeed, when you are putting your shower niche ideas in place, you have to consider the practicality of the building process. Make sure that the placements are well-organized.
● Height
If you have a tub shower in your bathroom, you need to create a shorter shower niche so that people can enter the shower booth correctly. In case the showering stall is a conventional type where people stand and shower, you should keep the niche a little above waist height. To note, a distance of 3 feet from the base of the shower or pan is appropriate.
If the users in the family are on the shorter side, placing the shower niche at a higher section would not work. Similarly, if there are many kids in the family, it is better to put the niche cavity in the lower wall section for easier reach.
● Splash Zone
Also, it is best if you make sure to add the niche area away from the "splash zone". This refers to areas where water can spray or fall on the surface while someone is showering. Usually, the splash zone is near the shower head and shower walls where water droplets "splash" during washing.
Therefore, building the shower niche on the opposite wall of the shower head and not beside it is practical and efficient.
● Accessibility
For many people, accessibility is a key decision-maker when it comes to choosing their shower niche ideas. For them, it is easier to put the niche between the shower head section and the valve controller. However, this can be counterproductive since it puts the shower niche extremely close to or within the splash zone. Plus, installing the slot in the valve wall would cost you higher since you have to consider plumbing labor charges for redirecting water supply lines.
● Design
While choosing and then building the shower niche ideas you have, you must carefully consider dimensions to ensure it is aesthetically pleasing. These include points like the height of the niche inside the shower area and its width.
Of course, the size of the shower niche would depend on the design you choose. However, you can still select it separately, considering your specific practical requirements.
Aesthetics- A Priority or Not?
Yes, the aesthetics of the shower niche ideas is the main driving factor for many users. They want it to fit the décor well. So, they focus on the symmetry of the structure. Here, putting a horizontal recessed center-oriented niche in the adjacent wall of the shower valves is suitable.
It would be best if you styled the tiled niche to fit the tiled interiors of the bathroom, adding both practicality and style to the section. Also, you can put two niches, one on top of the other or side-by-side, like the recessed double-wide shower niche available at HYDRO-BLOK. They are smaller in size individually and appear more cohesive and easier to manage on the wall.
Conclusion
Indeed, shower niche options are highly stylish, economical, and easily used storage options in bathroom designs. You can choose to build a differently styled shower niche in your bathroom interiors based on your specific needs and bathroom dimensions.
Use top-quality products like those at HYDRO-BLOK or other unified, easy to install, and visually attractive brands. Make your find choice after careful deliberation and enjoy the best outcome.